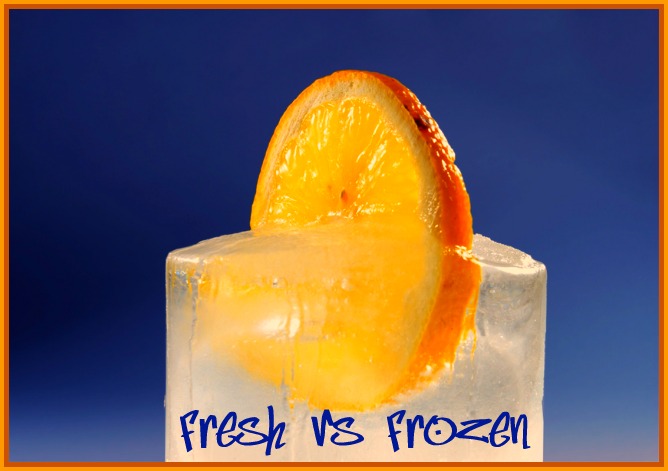 March is National Nutrition Month and National Frozen food month. I thought I would club the two and do a couple of posts this month on frozen foods and nutrition. Today am touching on produce: Fresh Vs  Frozen! Which one is better? Talking with people, it appears that fresh is always better than frozen, but is it really? There are pros and cons to both, and I am going to present some facts on this topic that will help clarify the Frozen Vs Fresh battle.
Pros and Cons To Fresh and Frozen Produce:

Nutrient wise: Frozen produce wins most of the time.  Here's why: Unless you grow your own produce or get them from a local farmer's market, most produce lose a lot of valuable nutrients in transit that could last anywhere between 24 t0 68 hrs. Exposed to light, heat and the stress of travel, they lose valuable nutrients. Those bright brilliant oranges that have travelled from Florida have lost 60% of Vitamin C by the time they reach your local Giant grocery store. Also, some veggies and fruit are usually picked before their peak on purpose  so that they may arrive at the store in good condition.  These veggies are less nutritious than they would have been had they been picked at a later date. Frozen produce on the other hand are blanched as soon as they are picked which is usually at their peak. This is  a method which safely helps the produce retain valuable nutrients  including phytochemicals.  Hence, 90% of the time Frozen produce have higher nutrient concentrations.

Aesthetic Value:  (Appearance and taste) : Fresh wins on this one. Ever tried making a salad with frozen spinach? Yuck ! It will look wilted and very unappetizing. A fresh tomato pasta sauce would probably taste better than a canned, bottled or frozen sauce. Fresh fruit tastes way better than frozen unless you're adding it to a smoothie.  Fresh blueberries bursting with color are far  more tempting than frozen. It's no wonder that top chefs on TV use Fresh produce for most of their cooking. It looks and tastes  better!

 Bottom Line :  My recommendation is to use both. Buy Fresh in season. Use fresh for all of those dishes where you need the fresh look and when you want to eat them raw or lightly steamed. Try shopping at farmer's markets or local produce stores to get the best bang for your buck nutriton-wise. Use frozen for all those cooked dishes where you cook the veggies. For example,  a spinach lasagna or a veggie casserole.  Use frozen fruit liberally in smoothies.  Frozen fruit often taste better than fresh in smoothies and are cheaper too. Use a liberal combination of fresh and frozen produce to fit your needs. Just make sure you get your 5 or more a day
Tips :
Eat fresh produce soon after purchase. For Frozen produce, use within 4 months. Over many months, nutrients in frozen vegetables do inevitably degrade so use them up soon.
Steam or microwave rather than boil your fresh produce to minimize the loss of water-soluble vitamins. Whenever possible eat them fresh without cooking or with minimum cook time. Lightly steamed broccoli is better than brocoli cooked till its super soft. Read my guest post on "sneaking veggies in your diet"  for some ideas
Use environmentally safe fruit veggie bags to give them a longer shelf life . They are plastic bags that contain zeolite that absorbs ethylene gas. Plants use ethylene as a hormone. One of its actions is to ripen fruit, so if you can reduce the concentration of ethylene, the produce don't get over-ripe and mushy as quickly. This is a practical suggestion for people like me who can't grocery shop every day and whose family cannot eat all the produce in one day

Eat lots of  produce whether fresh or frozen and make some smoothies to celebrate National Frozen Month. Check out Smoothie Central for some neat smoothie recipes.